Chicken Wings, Po-Boys, Burgers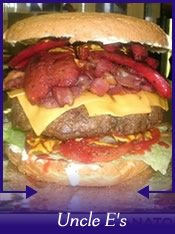 I have to admit I had my doubts when I visited Uncle E's. It doesn't look like much and it's in one of the many old shopping centers on Florida Blvd. Walking in there's tables for about 8 people and a walk up counter. It's a very small eatery. Uncle E himself was waiting to take my order.

There is a lot to order on the menu. They have about 30 specialty sandwiches, poboys, burgers, sausage dogs, hotdogs and more. However when I go to a place that has wings on the title then that's what I'm ordering. Uncle E suggested I have the "Everyday Special" which is 8 wings, red beans and rice and a bread. I had the wings in the honey bbq flavor but there are 7-8 choices on the flavor. It took a while to get and a lot of phone orders came in which made me think this place is becoming popular for take-out.

The food was excellent. For me it was the best chicken wings I've had around here for a long long time and I've been looking. They were moist and delicious in flavor, The honey bbq flavor was fantastic and the red beans were very tasty. Really for less than $8 it was a great meal. I'll definitely be going back.

What else I found interesting about Uncle E's when it was recommended to me is that they have a food eating challenge coming up.(read about it here) It's a 10 inch muffaletta bun, 3 pounds of ground beef, 8 slices of hot sausage, 18 slices of bacon and 9 slices of cheese. You've got an hour to eat it plus fries and a drink. They're having a contest on June 25th 2011 and you need to register online to compete. I'm definitely going to check that out!





Contact and/or Location Info:

10047 Florida Blvd
Baton Rouge, LA 70815
(225) 275-1890
See Location On A Map

Best of Baton Rouge Category: Baton Rouge Restaurants


Originally posted 06/06/2011 by Wayne Odom





View Larger Map
See Detailed Google Map