A great place to go have drinks, dinner and watch sports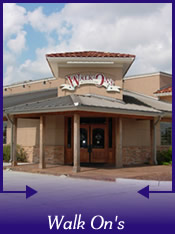 Walk On's was opened by a couple of guys who were former LSU athletes with a great idea for a place near LSU. They've worked hard and quickly to establish it as a new LSU tradition.

Walk On's is in an absolutely wonderful place right off Nicholson and in the heart of where people attending LSU like to hang out. When they opened in 2003 we still lived near LSU and used to go there all the time to enjoy the great food and drinks at the big beautiful bar area they've got.

Many of the LSU sports radio shows will do their thing at Walk-On's. It's pretty neat to go in there and have an LSU sports talk show going on.

The food is very good and the atmosphere is absolutely wonderful. If you're from out of town and here for an LSU game then definitely go here.

In the last year I've only gotten to go to Walk-On's a few times. Around the time of LSU games and we make special effort during crawfish season to get over there. They boil crawfish and sell it at a good deal. I've also enjoyed some pretty darn good pasta dishes while there.

Pride Fighting and Sports

Walk On's gets alot of the good pride fighting and UFC events. It's a great time to watch them on the big screen TVs and projectors they've got.

Did I mention that this bar is full of beautiful LSU girls?





Contact and/or Location Info:

3838 Burbank Ave
Baton Rouge, LA 70808
(225)757-8010
See Location On A Map


Website Available: Walk On's Bistreaux and Bar
Best of Baton Rouge Category: Baton Rouge Restaurants


Originally posted 02/24/2007 by Wayne Odom





View Larger Map
See Detailed Google Map