Great BBQ In Livingston Parish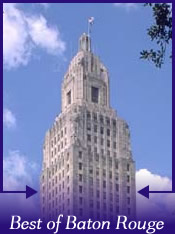 This is a great place that I get to visit fairly often because my parents moved out to Walker. Even in Walker it's a bit of a drive and you'll feel a little lost but it's worth it. About half way between Florida Blvd and I-12 you'll run across Wayne's BBQ. A little like the kind of place you see on a country road in the movies. Cozy with friendly local service and laid back locals.

The food is excellent and very filling. Personally I go for the combination plates of chicken, sausage, brisket, pork, ribs or turkey. A good array of sides to choose from and served with Texas toast. They have daily lunch specials and offer catering if you're interested. For some reason to me the food is better at lunch so if you're thinking of hitting up Wayne's for the first time go then!





Contact and/or Location Info:

29285 South Frost Road
Baton Rouge, LA 70754
(225) 686-7427
See Location On A Map

Best of Baton Rouge Category: Baton Rouge Restaurants


Originally posted 08/13/2010 by Wayne Odom





View Larger Map
See Detailed Google Map