Zeeland Street Market
Great plate lunches and breakfast.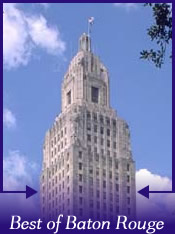 Zeeland Street Market is a locally owned restaurant. When I was attending LSU I would go eat at their restaurant 2 or 3 times a week for their excellent plate lunch specials. If you're looking to get a quick, home stle and delicious meal for lunch then this is definitely the place.
Most don't realize this because they're so well known for their lunches but they're also an excellent breakfast place. Starting at 7am they serve some excellent breakfast that is so home style you'll swear you're a kid again. Fresh in house made biscuits, delicious hash browns, eggs and breakfast meats of the highest quality.
Locally owned and operated. They're always friendly, service is fast and the food is wonderful. Give them a shot.
They also sell king cakes during Mardi Gras
Contact and/or Location Info:
2031 Perkins Road
Baton Rouge, LA 70808
(225)387-4546
See Location On A Map
Website Available:
Zeeland Street Market
Best of Baton Rouge Category:
Baton Rouge Restaurants
Originally posted 02/17/2007 by Wayne Odom

View Larger Map
See Detailed Google Map