Great cakes and pastery creations.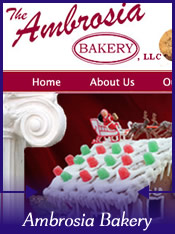 Ambrosia is without a doubt one of the very best bakeries in Baton Rouge. First hand I can tell you their creations are absolutely delicious. Mention them around big fans of pasteries and their faces will light up. They do everything from wedding cakes to king cakes. You can walk in and pick up some wonderful pre made treats or place an order.

My wife swears by their multi-layered strawberry cake.





Contact and/or Location Info:

11358 Perkins Rd
Baton Rouge, LA 70810
(225) 763-6489
See Location On A Map


Website Available: Ambrosia Bakery
Best of Baton Rouge Category: Shopping and Markets


Originally posted 12/02/2007 by Wayne Odom





View Larger Map
See Detailed Google Map