Cajun food, boudin, audouille, crawfish pies and more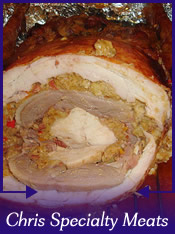 Chris specialty meats offers up an incredible spread of cajun style offerings. Everything from turducken to seasoned quail you can get it here. If you're a visitor from out of town looking to order some cajun treats to ship back home they're great. If you're a local looking to suprise your family they're excellent as well. They can literally supply you with everything you need for a great meal pre-made.

They don't have their own website but items from them are sold here . Pictures are included.





Contact and/or Location Info:

3075 Millerville Rd
Baton Rouge, LA 70817
(225)755-1783
See Location On A Map

Best of Baton Rouge Category: Shopping and Markets


Originally posted 12/02/2007 by Wayne Odom





View Larger Map
See Detailed Google Map