Hand Made and Hand Painted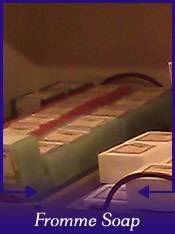 A few months ago I brought my wife to lunch at Oyaya's which is in the same building as The Courtyard Gift's and Interiors. She can't pass up on a gift shop so she went inside to look around and when she came out she had these really beautiful and great smelling bar soaps. Using them at the house she fell in love and now these Fromme bars show up more and more in many shapes and sizes. On one of our follow up trips I went inside and was amazed at the assortment of these beautiful soaps. I was surprised to read they were made by a local soap artist so when I got home I looked them up because they definitely belong on Best of Baton Rouge. Check out my Facebook for pictures of the soaps or their website link below.

If you go read the Fromme about us on their website it's truly an example of a person uncovering their talent. An LSU leisure class sprung a world of creativity and industry for the owner 20 years ago. You can see their love of what they do in the beauty of their products.

You can purchase Fromme Soap at The Courtyard Gifts and Interiors. For all other questions I would call the phone number below. It's the Fromme Soap customer service number.





Contact and/or Location Info:

8720 West Fairway Dr
Baton Rouge, LA 70809
(225)295-7866
Best of Baton Rouge Category: For The Home


Originally posted 05/21/2011 by Wayne Odom