Baton Rouge Soap, Bath & Body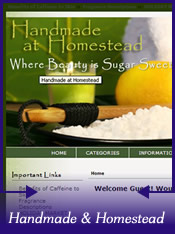 I first ran across this great Baton Rouge company at the Red Stick market. They're a producer of great bath and beauty products that very much impressed my wife. Beautifully wrapped and packaged original Louisiana bath accessories. Great for anyone wanting to feel more relaxed and refreshed when in the bath. Soaps, skin products, bath products, aroma therapy, lotions, candles and more. All handmade right here in Baton Rouge.

 

~A Holiday Shopping Affair~

A unique market showcasing an eclectic offering of jewelry, visual and wearable art, photography, and lush items for bath & body. Join us for some retail therapy and holiday shopping.

Date: Sunday, October 5 2008 Time: 1:00pm—4:00pm

Location: The Clubhouse at Walden Subdivision
1201 Thoreau Drive
Baton Rouge, LA 70808
Just off Kenilworth Parkway

The Suspects:

Beatrixbell handcrafted jewelry-unique designer jewelry with contemporary elegance and old world appeal. Beatrix Bell

Handmade at Homestead—Simple Elegance for Bath and Body. Elizabeth Hill

Milliefiore–original, contemporary artwork by Millie Groner

Storyville Apparel–locally designed and customizable apparel celebrating local artists & designers and encouraging individual expression. Harvey Durham siblings.

Gumbo Good Photography-Culinary Media/Photographic Art.  David Gallent.