The best boudin in Baton Rouge.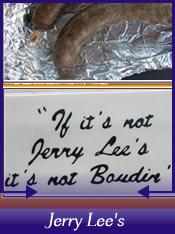 If you head down Greenwell Springs road towards the town of Central you'll find the locally famous Jerry Lee's. The best place(many will tell you the only place) to buy great boudin in Baton Rouge without having to drive out towards Lafayette or Mississippi. They also have a full service deli selection of sausage, ham, poboys, crawfish boiling supplies and just about whatever else you need kwik.

But all kidding aside for me and many folks this place is practially a "boudin stand" meaning that the primary reason you go here is to buy boudin. Folks pick it up as a treat for co-workers at breakfast or as a snack on the way home. I've even heard co-workers talk about picking it up for dinner. I don't think you'll hear many arguments that these guys are the best boudin within at least 50 miles of Baton Rouge. In fact many might argue further but Lafayette's great boudin shops might have something to say about that. I love it and we stop any time we're out in Central.





Contact and/or Location Info:

12181 Greenwell Springs Rd
Baton Rouge, LA 70814
(225) 272-0739
See Location On A Map

Best of Baton Rouge Category: Shopping and Markets


Originally posted 08/04/2010 by Wayne Odom





View Larger Map
See Detailed Google Map