Quality Subs All Over the USA.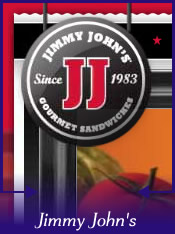 I had Jimmy John's sandwiches the first few times as part of Major Menu's order to our main office. I got this really cool looking lunch box with lots of great logos on it. I opened the box to find everything sealed up in plastic. First thoughts were "oh lord this is going to be some pre packaged convenience store stuff". However I was pleasently suprised at how good the food was. Since then every time I've had their sandwiches I've had the Vito and it's always excellent. The bread is always soft, the meat tasty and the veggies fresh. A big upgrade in comparison to the more established national brands.

Their location is in the Perkin's overpass area. Lots of new great restaurants are coming in there and this is one of them. There are around 20 sandwiches on the menu and I'll probably try all of them.





Contact and/or Location Info:

3043 Perkins Road
Baton Rouge, LA 70808
(225) 382-3914
See Location On A Map


Website Available: Jimmy John's
Best of Baton Rouge Category: Shopping and Markets


Originally posted 05/25/2010 by Wayne Odom





View Larger Map
See Detailed Google Map