Rolplaying, Historical & Fantasy War Games,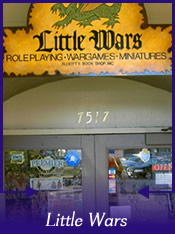 For 20 years this business has been serving Baton Rouge's gaming needs. It's located in mid-city and a big hit with the college aged crowd or just folks with big imaginations. Their primary offerings are roleplaying games, wargames, Magic games, military hobbyist games, and gaming and painting workshops. They have many clubs and regular leagues. They also have an open area of tables in their store free to the public for gaming. There is a big community based around this store that's very friendly and open to new people intrested.

Very cool to me is their large stock of military history books that you won't find in any big name bookstores.





Contact and/or Location Info:

7517 Jefferson Hwy
Baton Rouge, LA 70806
(225) 924-6304
See Location On A Map


Website Available: Little Wars Hobby Games
Best of Baton Rouge Category: Shopping and Markets


Originally posted 11/16/2008 by Wayne Odom





View Larger Map
See Detailed Google Map