Serving Baton Rouge Since WWII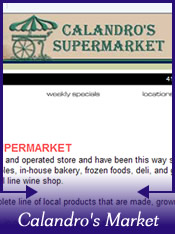 They actually advertise that they've been around since 1941 but I enjoy making the reference that they've been around since WWII. Calandro's is my personal favorite grocery in Baton Rouge. I'm an avit fan of quality cut steaks, fine wine and rare beers. All three of these things you'll find at Calandro's.

They're a full service grocery store with everything you'd need. They're produce is top notch and their bakery produces some really fine bread and pasteries. Many of their soft dinner breads I can't find anywhere else which often draws me in.

Calandro's has 2 locations in strategic points across the city. To the more North West you'll find a location on Government Street while to the South East you'll find my location over at Seigen & Perkins.

Wine & Beer

On a personal favorite note you'll find fine wine & beers you won't find anywhere else here. I frequent them to locate hard to find ales & lagers that I read about on BeerAdvocate.com. They're so well known for this they've even given their spirits department it's on name. "Select Cellars"





Contact and/or Location Info:

12732 Perkins Rd
Baton Rouge, LA 70810
(225) 767-6659
See Location On A Map


Website Available: Calandro's Supermarket
Best of Baton Rouge Category: Local Grocery Stores


Originally posted 08/09/2009 by Wayne Odom





View Larger Map
See Detailed Google Map