Loft living, new entertainment and business development.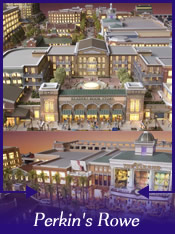 This new gem gets my vote for biggest wow of 2007. A completely new business, entertainment and living complex situated in it's own 2-3 city block area right at Bluebonnet and Perkins. When you step out of their new parking garage on to the strip it's as if you've left the city of Baton Rouge. A beautiful new landmark that says our city is growing up.

The businesses include the following: Anthropologie, Barnes & Noble, BCBG, CVS, FedEx Kinkos, Guess, J Crew, kiki, La Madeleine, Mirabella, Mome, Starbucks, Sur La Table, The Fresh Market, Urban Outfitters, White House / Black Market, and Z Gallerie.

Take in to account that many of the businesses on the other corners of Bluebonnet and Perkins are absolutely wonderful and you have a can't miss attraction in Baton Rouge. This intersection is quickly becoming a highlight of our city.





Contact and/or Location Info:

10107 Park Rowe Ave
Baton Rouge, LA 70810
(225) 767-4660
See Location On A Map

Best of Baton Rouge Category: Shopping and Markets


Originally posted 12/26/2007 by Wayne Odom





View Larger Map
See Detailed Google Map