Fine Spices From All Over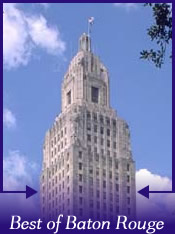 Red Stick Spice Company offers a large variety of Spices, Salt Free Blends and over 50 selections of specialty blended Loose Teas. They have Award Winning California Olive Oils, Local Hot Sauces, Southern California Avocado Oils, Balsamic Vinegars from Napa Valley and Cajun Seasonings made throughout Southern Louisiana. Plus some of the BBQ Butt Rubs and Hot Wing powders in the Country.

They offer Artisan Foods which are made in America and shipped directly from farmers in California, Louisiana and the Mid West. Complimentary Olive Oil Tastings with specially blended Spices and Bread for free everyday at the Baton Rouge store which is located in a beautiful shopping center over on Jefferson Highway by De Angelo's and CC's Coffee.

100% fresh spices, California Extra Virgin Olive Oils straight from the farm, Infused Sea Salts and over 50 choice selections of Fine Loose Teas.

They are locally owned and operated.







Contact and/or Location Info:

7970 Jefferson Hwy
Baton Rouge, LA 70809
(225)930-9967
See Location On A Map


Website Available: Red Stick Spice Company
Best of Baton Rouge Category: Shopping and Markets


Originally posted 03/29/2011 by Wayne Odom





View Larger Map
See Detailed Google Map