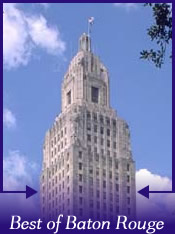 My wife and I were in downtown for Mardi Gras and looking for something to eat when I noticed Sadaf cafe's sign near the corner of North Blvd and 4th street. I'd never heard of it and that's always a fun feeling for me in Baton Rouge since usually if you haven't heard of a place and it's been in business for a while then it's good.

We walked in to find 3 very friendly and welcoming guys behind the counter who made some good suggestions and quickly put together our orders. I had a shawarma plate with spinach pie and rice while my wife had gyro with a noodle salad and rice. I have to say that the food was extremely good. It kind of made me notice that most places in Baton Rouge have about the same take on these famous meats but these guys definitely do their own thing. The meat was moist and very tasty and they had a little different spice which was refreshing. I thought the spinach pie had a great "zing" factor to it and was very different in a good way. I will definitely go back just for the spinach pie. My wife loved the noodle pasta as it was packed with tasty olives, peppers and other veggies.

Sadaf was a great experience. I'll definitely think of stopping again when I'm downtown.





Contact and/or Location Info:

321 North Blvd
Baton Rouge, LA 70802
(225) 344-0090
See Location On A Map

Best of Baton Rouge Category: Shopping and Markets


Originally posted 02/12/2012 by Wayne Odom





View Larger Map
See Detailed Google Map