Baton Rouge Gifts and Interiors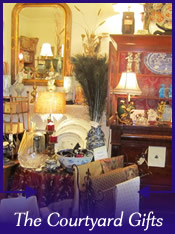 Hidden away on a small road between where Jefferson highway and Airline highway intersect is this great gift store. They've been there for a couple of years now but I just found them a couple of months ago. They're in a large wooden house of classic southern style full of beautiful plants with a wonderful courtyard hence the name. The location also hold Oyaya's restaurant which means you can have an excellent lunch in their beautiful courtyard.

The first time I brought my wife here she walked from room to room wowed at all the wonderful thngs she found. A huge array of fleur de lis items she though could only be found in one other place once a month. Beautiful soaps from a Baton Rouge based soap company called Fromme which now decorate all my bathrooms. Jewelry that she absolutely loves that is now regularly sneaking it's way back to my house. LSU kids clothes I've never seen before and more kids bows than I've ever seen before. The furniture pieces they had there were also very impressive. It's really a great place.

I have to give them props that the prices were very fair. I recently went there for mothers day gifts for my wife and my parents and I'll continue to go there when I want to get someone something special.





Contact and/or Location Info:

4467 Arnold Lane
Baton Rouge, LA 70809
(225)292-0860
See Location On A Map


Website Available: The Courtyard Gifts and Interiors
Best of Baton Rouge Category: Shopping and Markets


Originally posted 05/07/2011 by Wayne Odom





View Larger Map
See Detailed Google Map