Massive Selection of Organic and Natural Products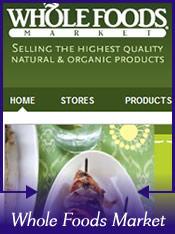 I have to give it to Whole Food Market they really take the "Market" and general grocery store to a whole different level. In case you've been hiding under a rock Whole Foods Market is the world's largest retailer of natural and organic foods, with stores throughout North America and the United Kingdom. We are lucky enough to have a location here in Baton Rouge over at Corporate. As one who doesn't really like to list large non-local interests unless they really make an impact I have to say this place hits hard. They've got a larger selection of just about everything than any other store and it's only quality product. It's really amazing. The produce and meat department are just excellent. I've never seen a larger selection of fruits or vegetables and the choices of meats, sausages and chops in the meat section were just huge!

Restaurants

One thing people who don't go to Whole Foods Market might not realize is the food selection that you can eat there is massive. They have several eateries which I can only describe as a full blown food court. You've got smokehouse, grill, pizza place, Asian food, salad bar, gelato bar, coffee bar and probably a couple others I'm forgetting when writing this article. I stop in for salads and wraps regularly and like the quality for the cost combined with them being fairly fast.

Beer & Wine Selection

If you're looking for a hard to find beer this is a place to try. Around 200 different beers I'd say most of which range from uncommon to rare. I saw a few I didn't even think you could get in Baton Rouge. If you love wine they have racks and isles full of it. Sure to find something you want.

Healthy Living / Natural Selection

They have a large selection of natural soaps, herbal supplements and natural products. As a non-natural living type I can't do it justice but this just say it's an all natural products lover's dream. This place is great. They have anything you can ask for but realize it'll be at a premium price. Organic and natural products are always a little marked up.





Contact and/or Location Info:

7529 Corporate Blvd
Baton Rouge, LA 70809
(225) 218-0452
See Location On A Map


Website Available: Whole Foods Market
Best of Baton Rouge Category: Shopping and Markets


Originally posted 05/19/2010 by Wayne Odom





View Larger Map
See Detailed Google Map