Fine Wine, Liquor And More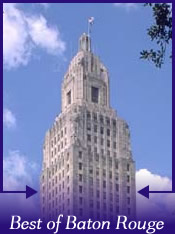 Bacchus is a beautiful locally owned and operated wine shop locates in South Baton Rouge. They feature wines from all over the globe, wine accessories and a good assortment of fine liquors, scotches, tequilas, vodka, etc.

Something that really stood out to me is that they also have a really cool looking digital wine tasting dispenser device that holds around 10 or so bottles of wine for use in their weekly wine tastings. On Thursday they offer complimentary wine tastings for customers to enjoy. There is a large high top table and a television to offer a complete experience to their customers.







Contact and/or Location Info:

18291 Highland Road #108
Baton Rouge, LA 70810
(225)753-9463
See Location On A Map

Best of Baton Rouge Category: Wine Shops


Originally posted 08/19/2008 by Wayne Odom

Weekly Food & Drink Specials


Thursday
»» complimentary wine tastings 6pm-8pm



View Larger Map
See Detailed Google Map