Excellent Wine From Around The World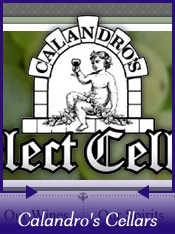 Calandro's is a bit of a rarity for a business to me. A local grocery who became so well known for the quality of their wine department that they expanded it and split it to it's own business name. However once you visit Calandro's you'll likely never go back to the boutique stores. An excellent array of rare wines from all over the world. Most importantly for me is that they're obviously so knowledgeable in their selection due to how they select the rare great varieties you rarely see in a not so informed store. Fine Italian, French, German, Spanish, Portuguese, Hungarian, Chilean and Australian wines all available.

Rare Beer Store

Personally I'm a beer lover. Calandro's has the broadest selection of rare beers I've seen in Baton Rouge. Great selection of Belgian ales you won't find anywhere else.

I shop at the Perkins & Seigen lane location but I display the Government Street location here.





Contact and/or Location Info:

4142 Government St
Baton Rouge, LA 70806
(225) 383-7815
See Location On A Map


Website Available: Calandro's Select Cellars
Best of Baton Rouge Category: Wine Shops


Originally posted 07/31/2009 by Wayne Odom





View Larger Map
See Detailed Google Map